Raised £42,270 so far from 158 supporters against our target for this campaign of £100,000        THANK YOU VERY MUCH!
Last updated 31-Dec-22

Our BR-Swindon-built Class 52 D1010 'WESTERN CAMPAIGNER' is currently undergoing a major overhaul at our Williton base on the West Somerset Railway and WE NEED YOUR HELP to progress with the work so that we can get this iconic locomotive back to full working order.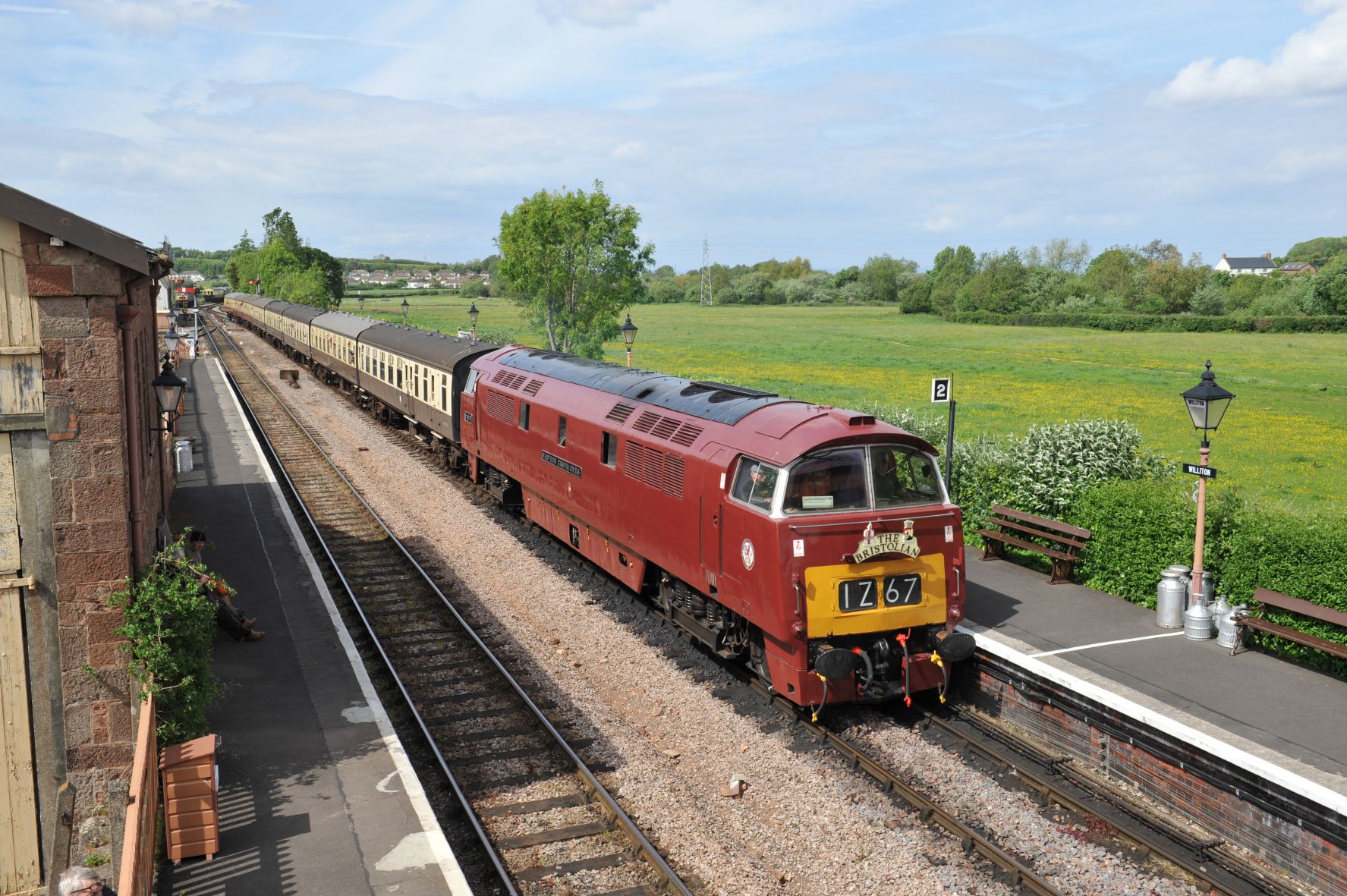 The DEPG's Class 52 D1010 'WESTERN CAMPAIGNER' is pictured arriving at Williton Station on the West Somerset Railway with a service from Minehead to Bishops Lydeard on Saturday 13th May 2017. Photo by Barry Gay © CC BY-NC 3.0
We launched the D1010 RESTORATION APPEAL in July 2021 and so far we have raised more than £20,000 in donations and financial support pledges that have allowed us to make a very positive start on the restoration work. WE NEED MORE HELP  – so we are now offering a sponsorship scheme where YOU can donate to a specific aspect of the restoration program and can GET RECOGNITION FOR YOUR SUPPORT.

In return for donations to the CAMPAIGN for CAMPAIGNER that accumulate to £25 or more, we will allocate a patch or a part that is being restored and allocate a number to it. We will then maintain a record of your support because your support is what allowed that part to be repaired or replaced.
If you choose the 'PUBLIC' option, your NAME will be engraved on the patch or part (whenever possible) and also recorded on the drawings. You will receive a digital photograph of your patch or part in situ on the loco.
To start this campaign, we are offering SPONSOR A PATCH where the many separately definable areas of repaired bodywork and sub-structure will be allocated a number and made available for sponsorship, starting with £25 for the smallest and simplest patch and increasing pro-rata depending on the size and complexity of the patch or part. Note that a large patch or part may have multiple sponsors. This allocation is at the discretion of the DEPG.
EVERYONE WHO HAS ALREADY DONATED £25 OR MORE SINCE JULY 2021 WILL BE RECOGNISED and will be allocated an appropriate area on one of the patches or parts that have already been applied. Use our CONTACT FORM if you want to register your previous donations to D1010 for this campaign.
Here's an example of what we have done so far: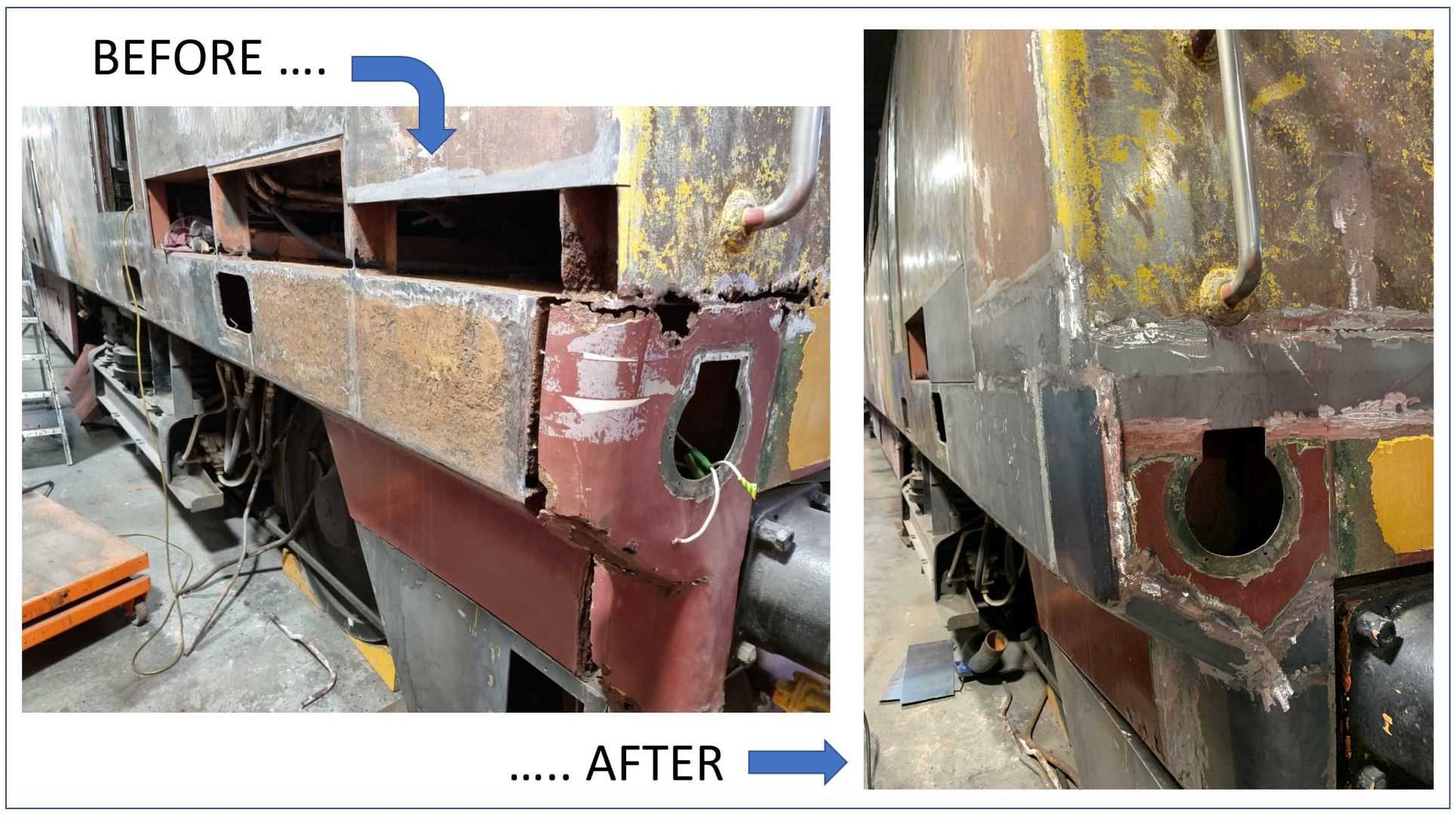 And here's an example of how we determine the relative values of the patches …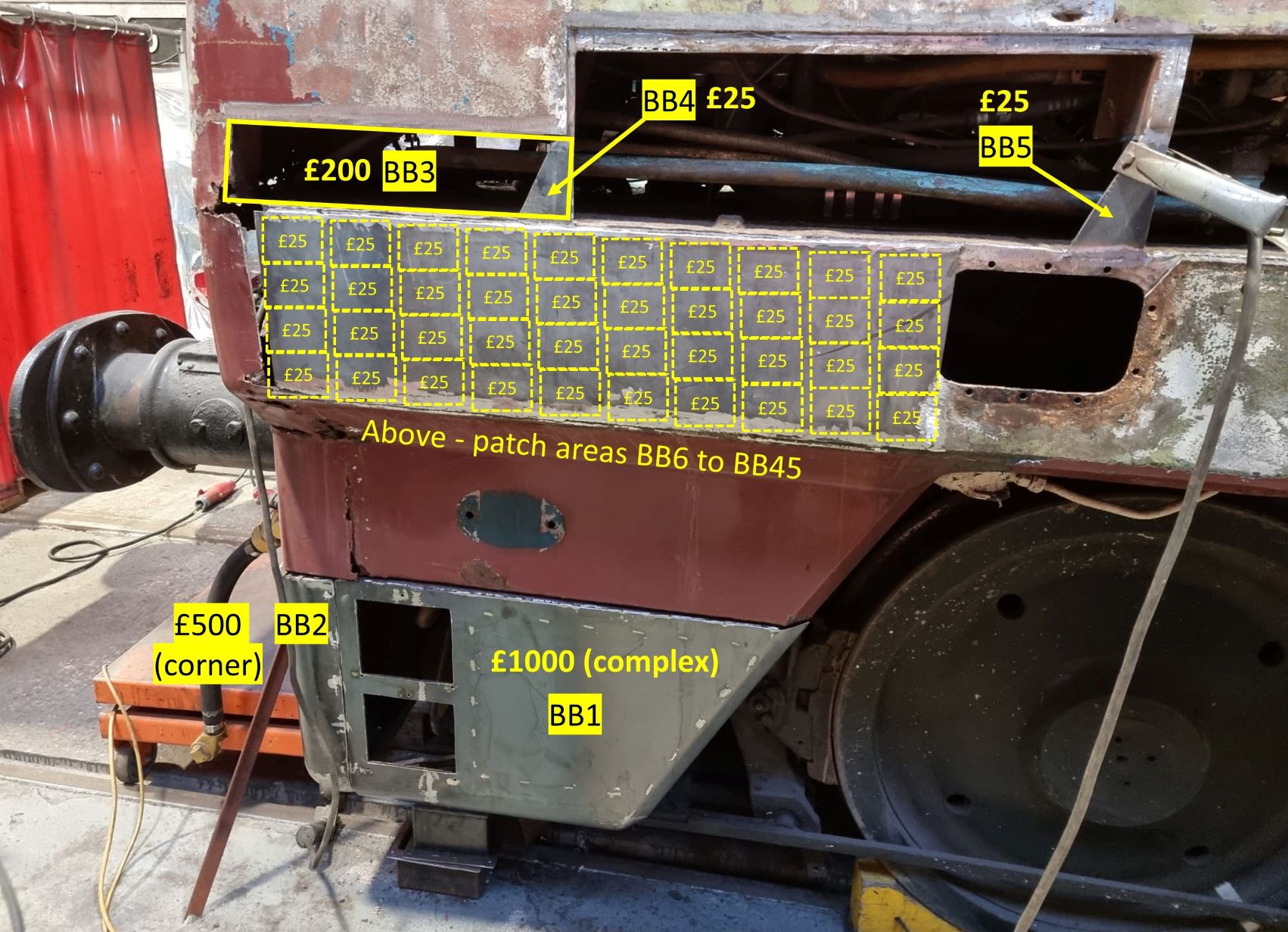 D1010 'WESTERN CAMPAIGNER' showing new metal applied in several areas at the 'B' end on the 'B' side. The sponsorship values of the patches and parts and their unique reference numbers are indicated. Photo taken at Williton on 4th January 2022 by Leroy Ford © CC BY-NC 3.0
In the near future, we will be extending the scheme to include sponsorship of radiator elements that need repairing and sponsorship of bearings and suspension parts such as springs and bushes, then other parts.
This is an opportunity for you to directly connect with this celebrity locomotive and to identify the exact place on the loco where your donation made the difference.
We will prepare drawings that show exactly where each sponsored part is located and these drawings will be made available at our depot on open days and loco running days. You will be able to have your name added to the drawing index if you choose to go 'public' about your donation.
With this scheme, we intend to ensure that the restoration of D1010 proceeds apace and that we can cross every bridge that we come to, in the confidence that you and your fellow supporters will continue to donate to get this much-loved loco BACK IN BUSINESS !
Thank you very much !
---
Go to the D1010 Restoration Appeal page