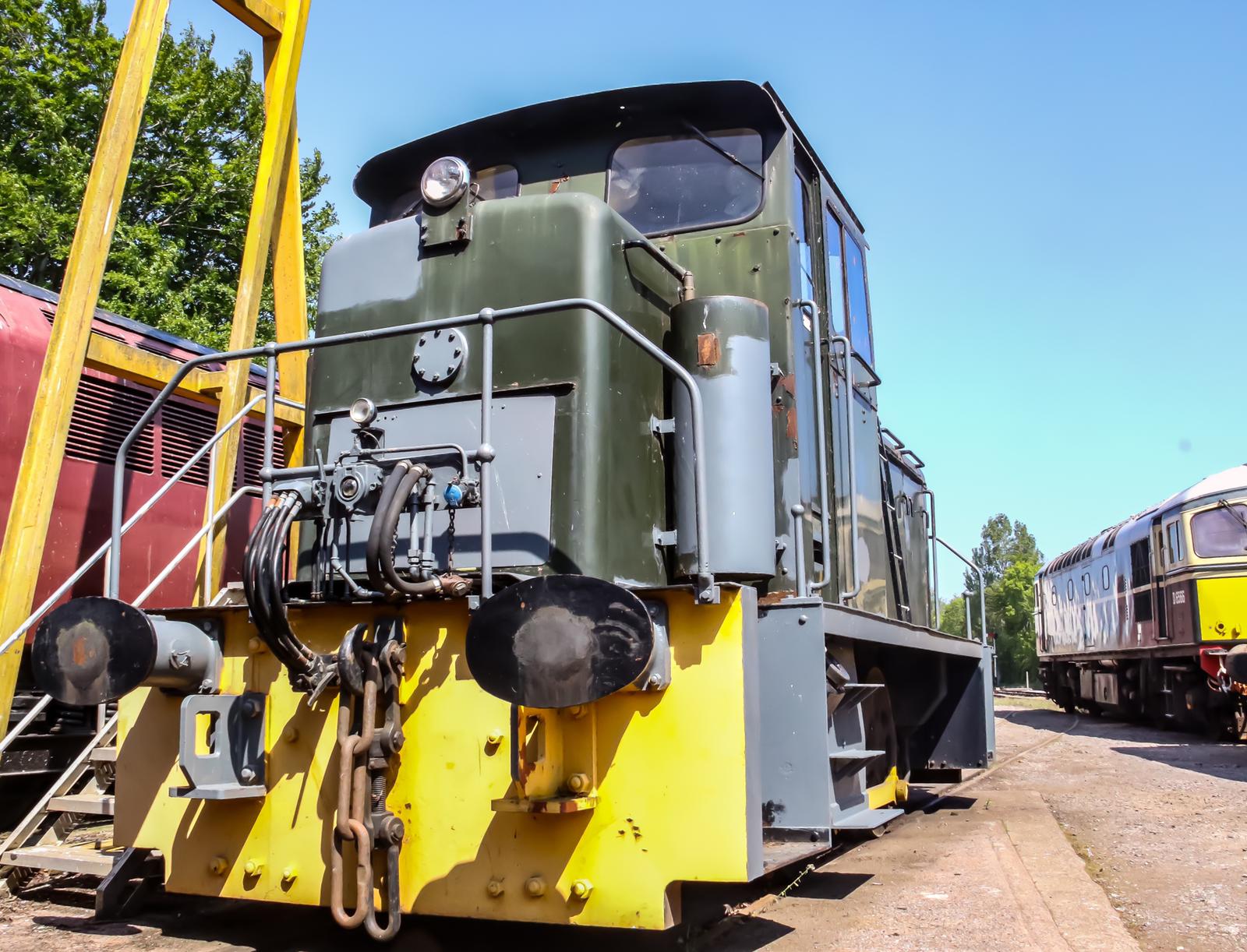 Current Status: Non-Operational – undergoing fuel system investigation that is preventing engine start.
Number 578 (ROF 1) is one of a pair of diesel-hydraulic shunting locomotives that were introduced to the Royal Ordnance Factory (ROF) in Puriton, near Bridgwater in 1972 as replacements for existing lower-powered locomotives that were unable to haul works trains over the gradients associated with the bridge that had been built over the brand new M5 motorway, just north of junction 23. Both locomotives were loaned to the WSR by ROF parent company BAE Systems when the works closed in the '90s, with the formal ownership transferring to the WSR as recently as 2019.
Number 578 (ROF 1) is in operational condition although it requires attention to bodywork corrosion and a full repaint. Sister loco number 579 (ROF 2) has already been restored and has been in regular use at Minehead for many years. Both locos are capable of running in multiple but are air-braked with no vacuum brake capability, so their use on the WSR is restricted. However, the short length and mighty tractive effort of these Paxman-engined locos makes them a very good fit for pilot duties within a crowded yard.
The photo shows the loco wearing some temporary protective paint patches that were applied to the worst of the rust spots during the recent period of bad weather, but a deep bodywork restoration will soon commence and will bring a shine back to this useful little locomotive.
We welcome number 578 to the DEPG fleet !
Technical Specification
Engine: Paxman 6-cylinder V-type 6RPHL Mk 7, non-turbocharged.
Transmission: Hydraulic. British Twin Disc CF11500 torque converter, Self-Changing Gears Ltd reverse and reduction gear unit.
Weight: 35.6 Tons (36 tonnes)
Length: 24 ft 3 inches (7.5m)
Output: 302 hp at 1,500 rpm
BR Power Rating: Not Applicable
Speed: 15 mph max
Fuel Capacity: 200 gallons (908 litres)
Wheels: 0-4-0 wheelbase 6 ft (1.8m)
History
Manufacturer: Andrew Barclay, Kilmarnock, Scotland
BR Class: Not Applicable
Introduced: 1972
Number Built: 2
Role: Industrial shunting duties
Read about sister locomotive ROF 2
Go to the Locomotive Status page