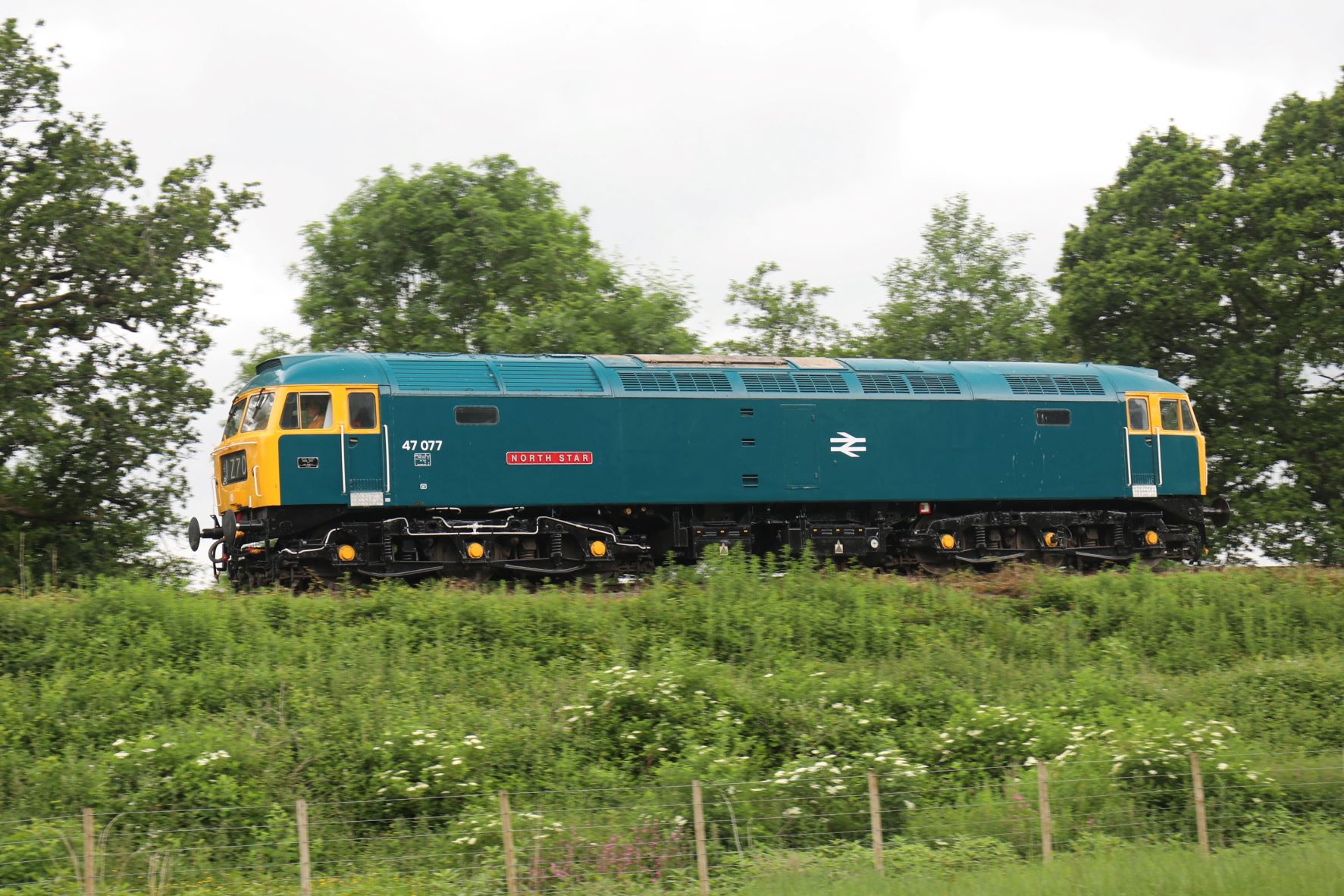 Class 47 47077 'NORTH STAR' descends Watts Bank on the approach to Bishops Lydeard on Monday 21st June 2021. Photo by Chris Shields © CC BY-NC 3.0
Locomotive timeline:
1965
Built by British Railways Crewe Works and numbered D1661
13-Feb-65
Entered service at Swansea Landore depot (87E). Livery standard two-tone green with small yellow panels. Three-piece fixed radiator grilles. Dual braked (Air and Vacuum) from new.
20-Mar-65
Named 'NORTH STAR' by Ray Gunter, Minister of Labour at Paddington Station, London. This name was first carried by a Sir Daniel Gooch designed Great Western 2-2-2 Seven Foot Single steam engine built by Robert Stephenson in 1866. Then the name was carried by the first Churchward Great Western 'Star' class 4-6-0 locomotive no. 4000 built at Swindon in 1907
1966

Fixed radiator grilles upgraded to Serck hydrostatic shutter assemblies

April-68

Full yellow ends applied

24-Feb-74

Renumbered to 47077 under the TOPS system, s

ub class 47/0 as a boiler fitted (steam heat), dual braked locomotive.
26-Apr-73
Allocated to Old Oak Common, London.
Aug-73
Repainted into non-standard British Rail blue with full yellow ends.  No logo applied.
May-76
Dual AWS (WR and BR system) removed
03-Oct-76
Allocated to Cardiff Canton depot (CF). BR arrow logos applied.
20-Feb-82
Boiler no longer functional (isolated).
Mar-84
Major works overhaul, boiler removed and a train heating auxiliary generator (ETH) fitted. Renumbered as a result to 47613, sub class 47/4 as an ETH locomotive. Repainted into Mainline blue
07-Jul-84
Allocated to Old Oak Common, London
Jun-86
Headlight fitted
Oct-86
Repainted at Old Oak Common into original Inter-City livery.
16-May-88
Allocated to Bristol Bath Road
Oct-89
Allocated to Crewe Diesel Depot after another major overhaul receiving cab and body improvements and renumbered to 47840 sub class 47/8 as an Inter-City Fleet locomotive.
Dec-89
Repainted at Old Oak Common into new Inter-City livery.
Early 90
Vacuum brake equipment was isolated as no longer required.
May-92
Allocated to Bristol Bath Road and repainted into full Inter-City 'Swallow' livery
Oct-95
Allocated to Crewe Diesel depot and ownership passing to Porterbrook Leasing on the privatisation of British Rail. Leased by Virgin Trains Cross Country and repainted into Virgin livery.
2002
Repainted into 'heritage' British Rail corporate blue livery with red-backed nameplates.
19-Aug-02
Hauled the last Cross-Country loco hauled train, the 08:46 1M56 Penzance to Manchester. Allocated to Willesden Electric Depot as a standby locomotive. Leased to GBRf and allocated to Old Oak Common, London now operated by First Great Western (FGW).
30-Apr-07
Entered Brush Traction, Loughborough Works for engine repairs and refitting of vacuum brake equipment, as preservation was being arranged.
01-May-07
Ownership transferred from Porterbrook Leasing to The Diesel & Electric Preservation Group Limited.
26-May-07
Emerged from Brush Traction, Loughborough Works, repainted into two tone green livery with small yellow panels. Functional headcode panel reinstated.
28-May-07
Class 47/8 D1661 / 47 840 'NORTH STAR' arrived on the West Somerset Railway at the head of Heartland Rail Charter from Derby.
28-May-07
Allocated to Williton Diesel Depot. 
Oct-18
Loco taken out of service for bodywork and roof repairs that were performed in Summer 2019 by Mark Stanley.
22-Oct-19
Emerged from WSR Restorations 'Swindon Shed' at Williton in BR-blue livery with logo and CF depot sticker, replicating the livery of the late 1970s. Loco entered the DEPG loco shed at Williton to undergo additional repairs and restoration.
21-May-21
Refurbished Serck hydrostatic radiator shutter assemblies were re-installed on the loco at Williton.
05-Jun-21
Emerged from the DEPG loco shed complete at Williton, ready for Vehicle Inspection and Brake Test (VIBT).
21-Jun-21
Loco moved from Williton to Bishops Lydeard under her own power, the first such movement since October 2018.
13-Jan-22
Loco departed Bishops Lydeard for the North Yorkshire Moors Railway (NYMR) via Allelys Heavy Haulage road transportation. the loco will be on hire to the NYMR for a period of two years.
18-Jan-22
Loco was unloaded at New Bridge on the NYMR.
08-Jun-22
Loco was towed to Grosmont by 37264 so that some overhaul tasks can be completed. The loco will then enter service as a 'Thunderbird' loco and will also be used for crew training in advance of regular rostering.
18-Jul-22
Loco entered regular service on the NYMR !
Data sources: Class 47 Data File Part 5B by R.P. Levett and P.M. Jaques 1990 and www.brdatabase.info and www.class47.co.uk websites
Learn more about D1661 47077 47613 47840 'NORTH STAR'