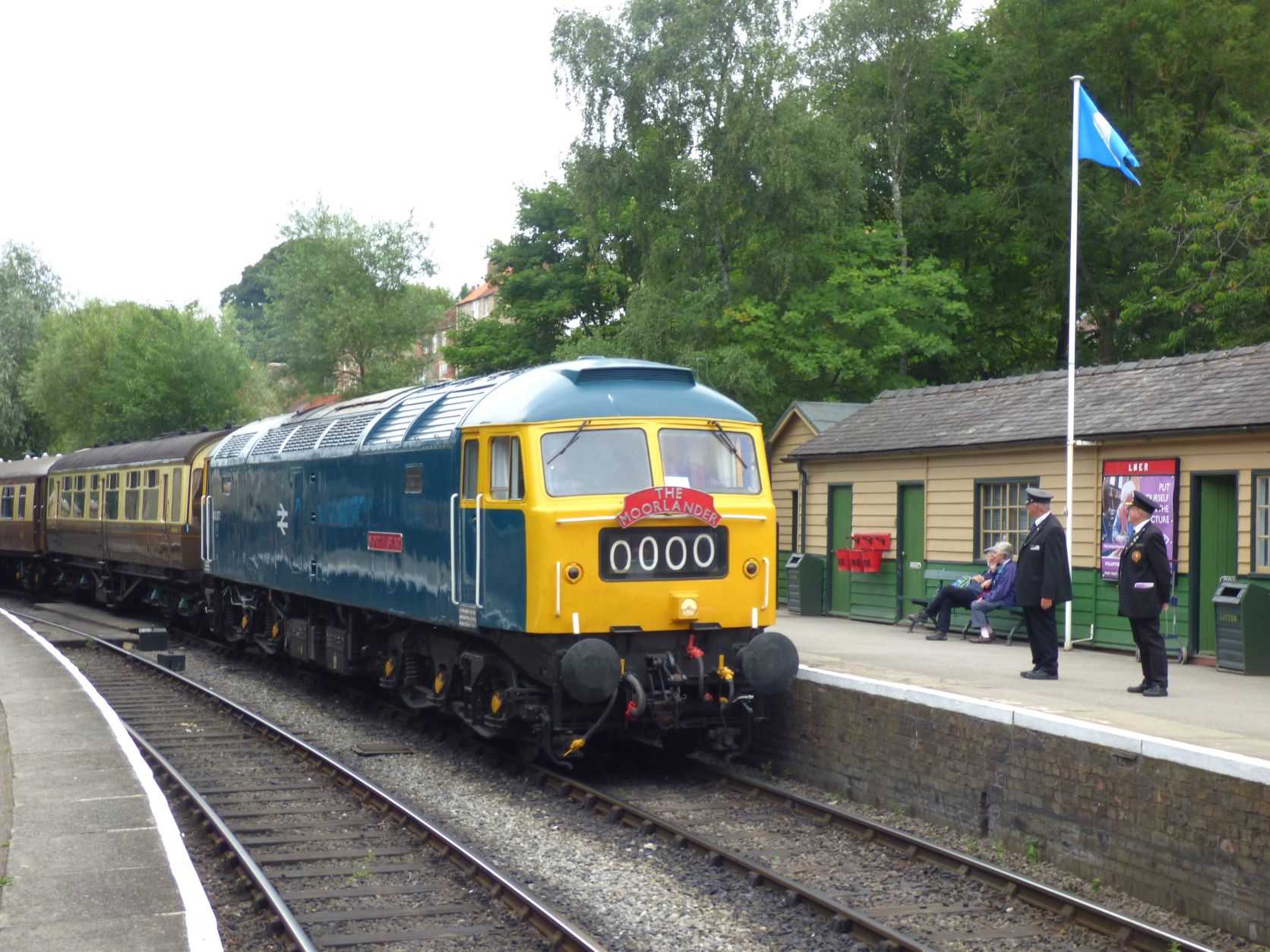 Current Status: Operational – on hire to the NYMR
---
D1661 "NORTH STAR" (also known as 47 077, 47 613 and 47 840) was built by BR at Crewe Works in 1965 to a design that had been developed by Brush Traction, in conjunction with BR. The locomotive carries the distinction of being the last locomotive scheduled to haul a cross-country express service on the UK network on the 19th August 2002.
This "celebrity" locomotive was purchased by The D&EPG in 2007 for preservation and on leaving main line service, went first to Brush Traction at Loughborough for a light overhaul, a repaint into original two-tone green livery and for the reinstatement of dual braking. On Bank Holiday Monday 28th May 2007, the loco worked a final special charter train from Derby to Minehead. At about 14:30, D1661 rolled to a stand at Minehead, her mainline career now behind her and a new one beginning in the hands of The D&EPG on the West Somerset Railway.
From that date through to the end of 2018, D1661 regularly worked on the WSR and was a reliable performer.
The loco was withdrawn from service at the end of the 2018 season due to deterioration of the bodywork, in particular the roof, and has since been repaired and has been outshopped in BR blue, carrying her TOPS designation 47 077 and the familiar BR double-arrow logo and red-backed nameplates, replicating the livery that she carried when allocated to Cardiff Canton depot in the late 1970s. The loco is on hire to the North Yorkshire Moors Railway for the next two years and will be earning income for the DEPG whenever she is in use.
Technical Specification
Engine: Sulzer 12LDA28C 12-cylinder twin-bank turbocharged and intercooled diesel
Transmission: 6 x Brush TM64-68 traction motors
Weight: 118 tons
Length: 64 ft
Output: 2,580 hp at 800 rpm
BR Power Rating: Type 4
Speed: 95 mph
Fuel Capacity: 1,295 gallons (long-range tanks fitted in 1989)
Wheels: Co-Co
Tractive Effort: 60,000 lbs (maximum)
History
Manufacturer: BR Crewe
Built: 1965.
First allocated Depot: Swansea Landore (87E), 13th February 1965.
Depot upon withdrawal from service: Old Oak Common (GBRf), 1st May 2007.
BR Class: 47
Number Built: 512
Role: Mixed traffic
Learn more about D1661 47077 47613 47840 'NORTH STAR'
Go to 'NORTH STAR' heads North page
Go to the Locomotive Status page