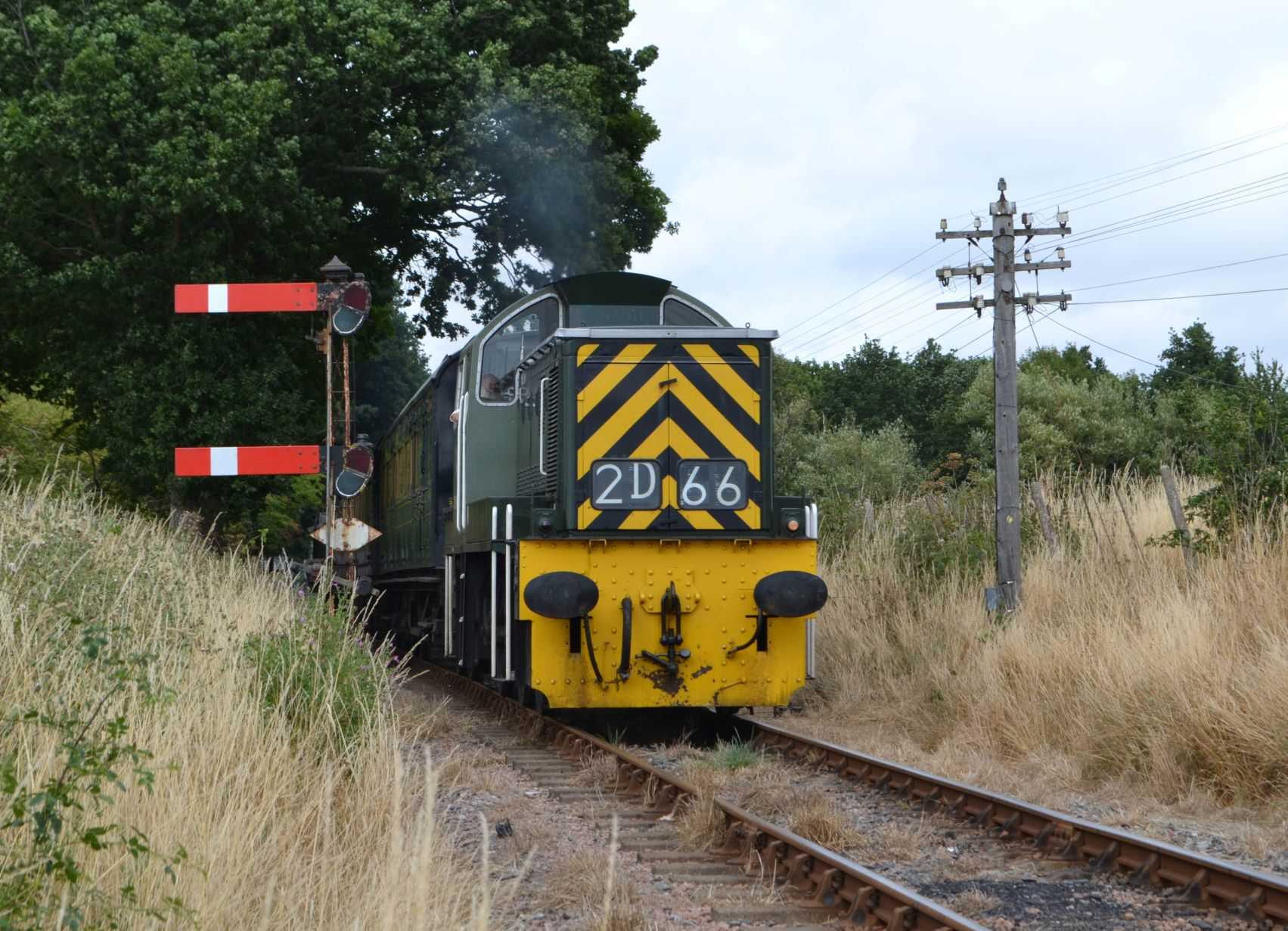 Class 14 'Teddy Bear' D9526 is pictured climbing away from Wittersham Road station on the K&ESR on 2nd August 2022, during the heatwave and dry spell that resulted in the loco being used intensively during the summer months. Photo by Colin Girle © CC BY-NC 3.0
After being away from home on hire to the K&ESR for the last 18 months, our Class 14 'Teddy Bear' D9526 is returning to the WSR on Friday 20th January to take up residence at Westridge Shed, Bishops Lydeard, until such time as she is able to return to Williton. During her time at the K&ESR, this little loco has racked up almost 750 hours of use and has performed very well, with only occasional attention being needed for scheduled maintenance and the replacement of "wear-and-tear" items.
Many thanks go to Mike Grimwood and the D9504 team at the K&ESR for looking after D9526 and giving her the same level of care and attention as they give to their own locomotive. MUCH APPRECIATED !
LOCO NEWS:
Class 52 D1010 'WESTERN CAMPAIGNER' – Ian continued his painstaking work on improving the repaired surfaces of the loco, even though the cold temperatures made it impractical for filling and painting. More progress was made with the reinstatement of the wiring under the 'B' cab floor, and once this is completed, the floor will be replaced and the electrical equipment frames and the desk controls will get an overhaul. The major area of progress has been the reassembly of the 'B' transmission turbine rail which has received a lot of attention during the last few weeks. As usual, the photos tell the story: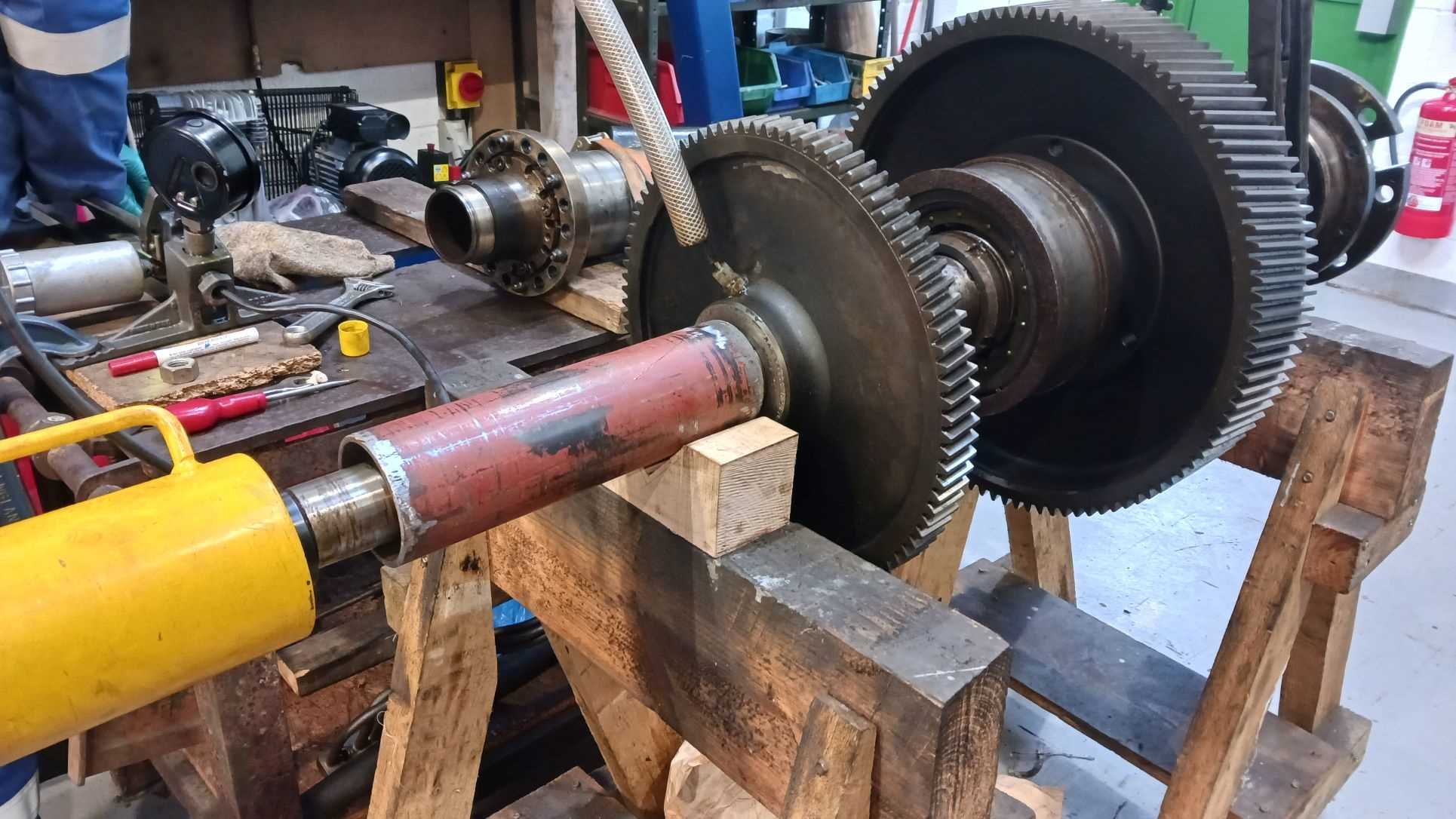 D1010 – the input shaft of 'B' transmission was separated into its component parts at Williton on 9th January 2023 so that the corroded bearings can be replaced. The photo shows the dynastarter drive pinion being released from the tapered shaft using oil injection, plus a little hydraulic assistance in the axial direction. Photo by Geoff Miles © CC BY-NC 3.0
D1010 – the working area was reorganised at Williton on 10th January 2023 to allow more space for the turbine rail sections to be re-combined. The main transmission housing can be seen on the yellow stand, giving a clear impression of the size of this piece of 1960s engineering. Photo by Colin Foxhall  © CC BY-NC 3.0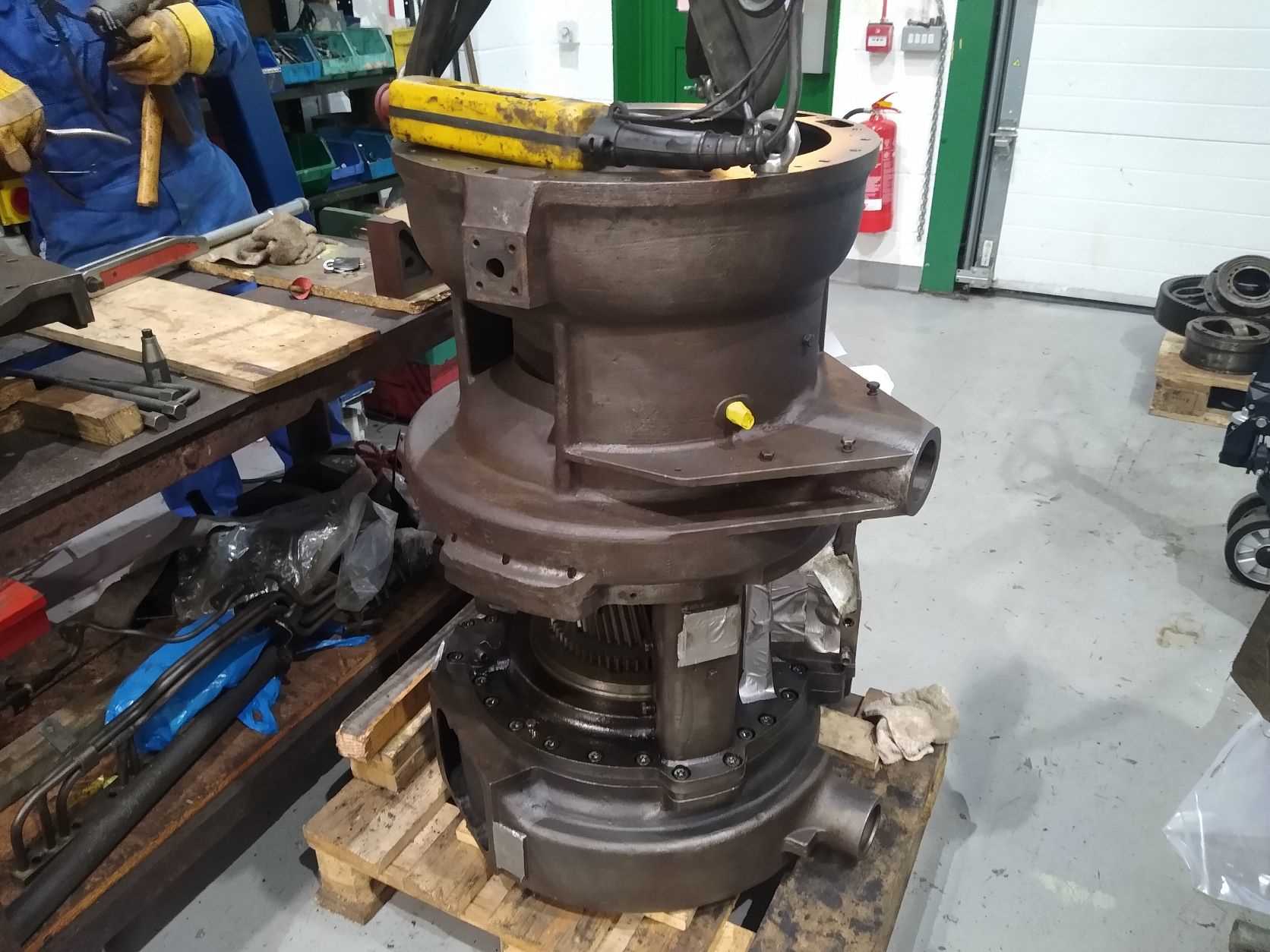 D1010 – the three main sections of turbine rail housings of the 'B' transmission were combined into one large assembly at Williton on 10th January 2023. The housing at the bottom is for the first stage torque converter (first or low "gear"). Just above that, the drive pinion is visible through the aperture. Above that, the housing accomodates the small diameter third stage (third or top "gear") before expanding out again for the second stage (second or middle "gear"). Photo by Colin Foxhall © CC BY-NC 3.0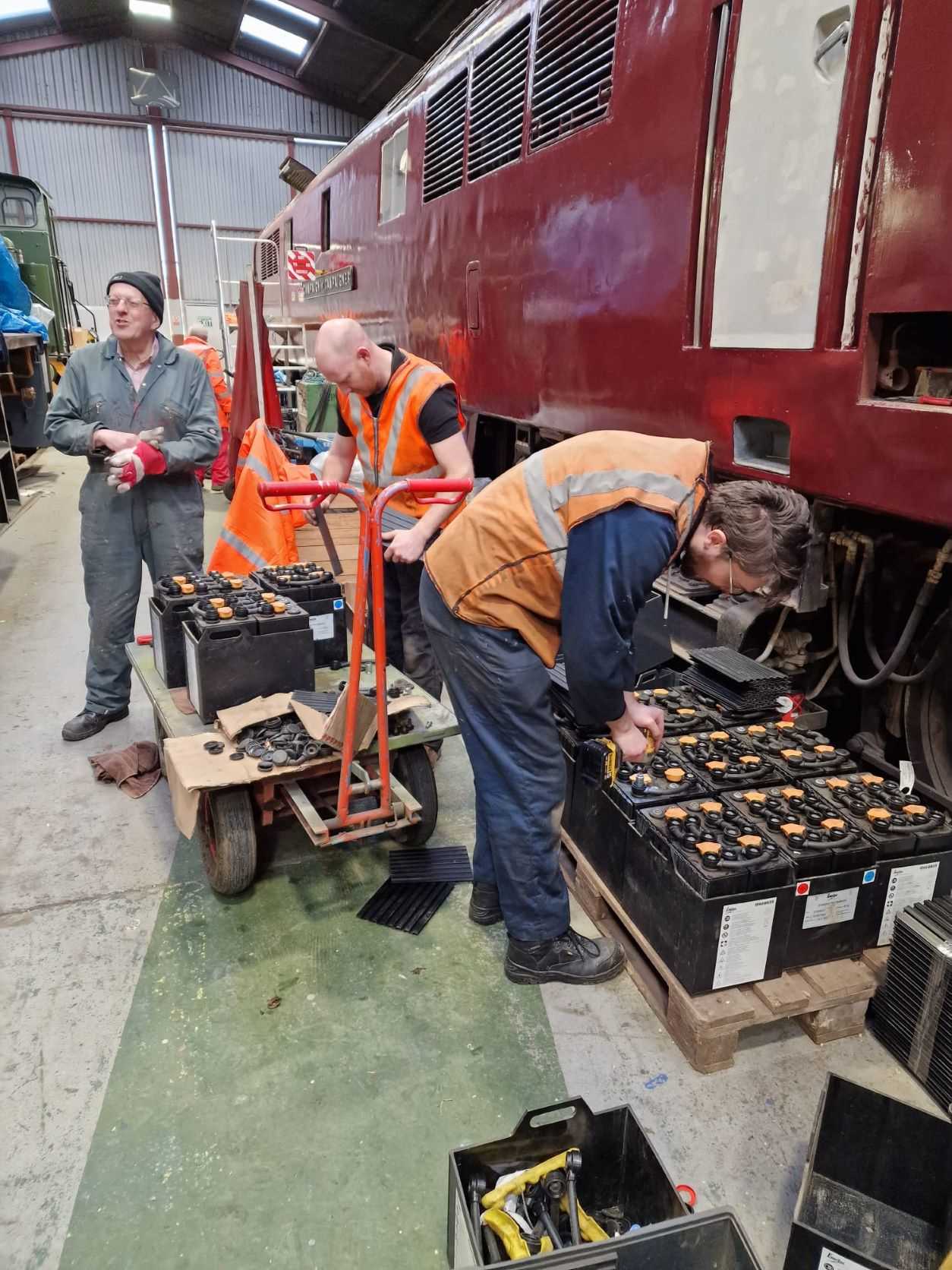 D1010 – the batteries were removed from the loco some time ago to allow the battery compartments to be repaired, but before the batteries are re-installed, they will be loaned to 'Hymek' D7017 for the 2023 season to avoid the need to buy a new set for that loco. Batteries deteriorate when not in use, so fitting them to an active loco is a logical step and avoids waste. From L-R, Chris, Simon B and Karl were on battery duty at Williton on 14th January 2023. Photo by Martin Howard © CC BY-NC 3.0
To continue our rate of progress requires FUNDING and we give our thanks to everyone who has supported D1010 by sponsoring or donating during these difficult times. If you are able to do so, please SPONSOR A PATCH because there is plenty of recently-added metal that still needs engraving. Photographs and certificates of sponsorship will be sent out to all who have sponsored this phase of the restoration work, but please bear with us because our admin resources are in short supply, but we will get it done soon. Click the image further below to sponsor a patch. Thank you in advance for your support !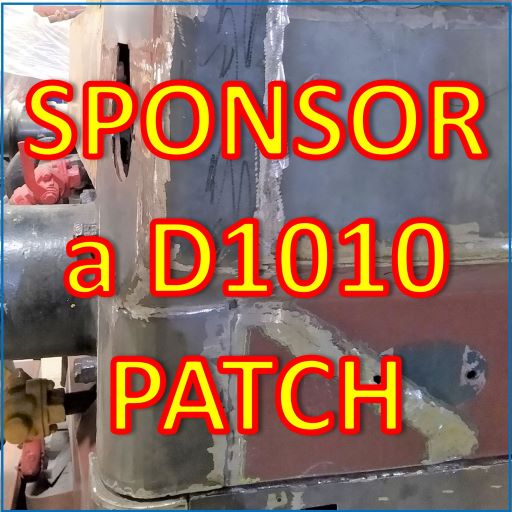 See our CAMPAIGN for CAMPAIGNER web page for more details. We still have a lot of work to do on this massive locomotive, so PLEASE DO COME ALONG AND HELP IF YOU CAN !
Class 33 D6566 (33 048) – this loco has now taken up the role of duty loco and is available for use by the WSR.
Class 33 D6575 (33 057) – attention has been focused on the compressor because of reports of excessive oil consumption and evidence of oil leaks. The initial examination showed that oil was being pushed out from the crankcase, perhaps from leaking piston rings which would suggest that a full overhaul would be required. Further inspection showed that the leakage was around the low pressure cylinder, so the bolts were retorqued as a simple step that may lead to a solution. In the background, the options for a replacement compressor are being studied, just in case.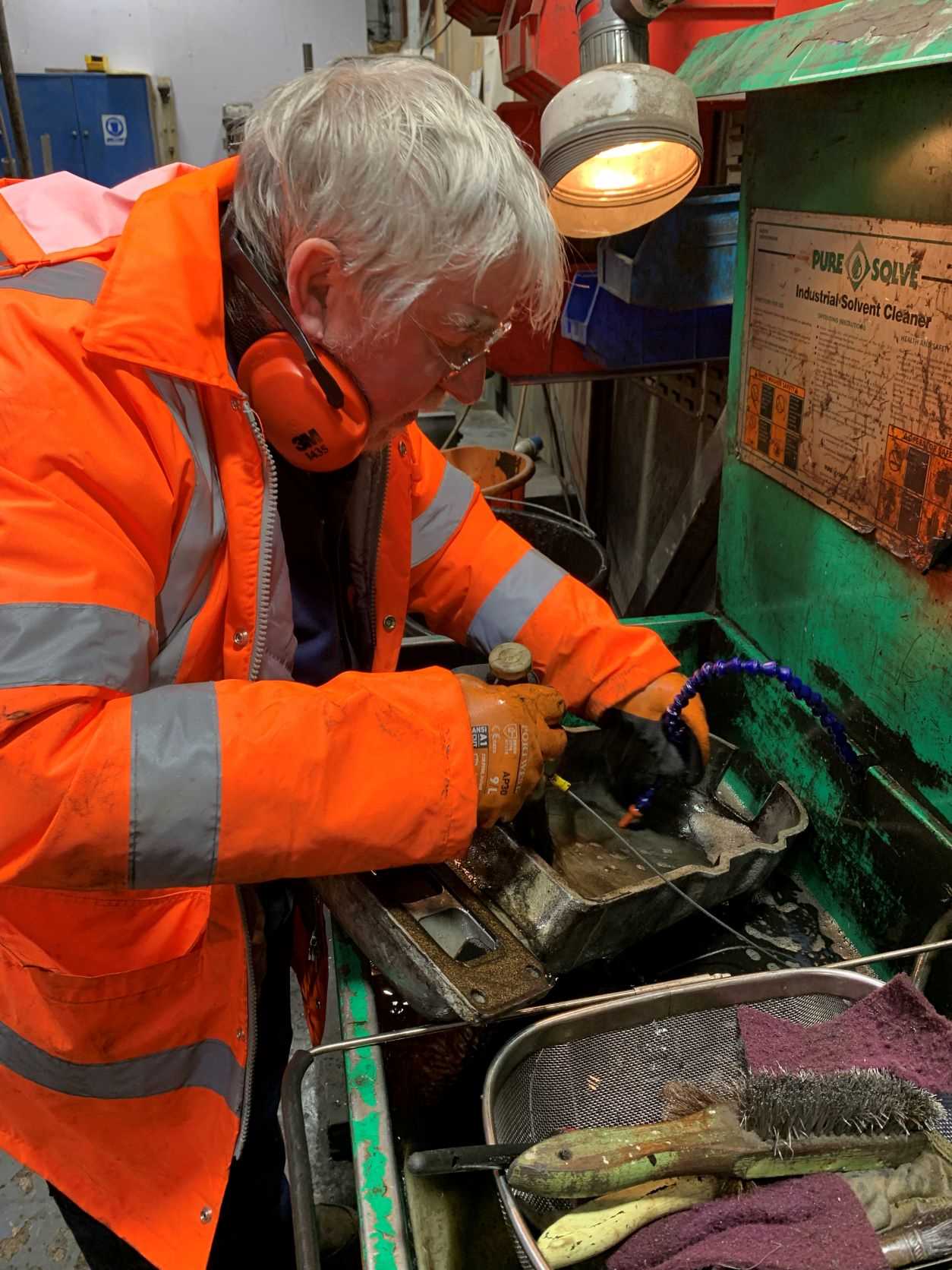 D6575 (33 057) – volunteer Ian F cleans up the cover from the Davies & Metcalfe compressor that has been consuming more oil than it should. Pictured at Williton on Saturday 14th January 2023 by Andy Royal © CC BY-NC 3.0
Class 35 'Hymek' D7017 – the batteries on this loco are old and tired, and were only just able to start the loco for its test run last month, even though they had been on charge for some time prior to the start attempt. So, the opportunity was taken to move the batteries from D1010 to make better use of them during a period when D1010 doesn't need them, and when they are liable to deterioration as a result. This will allow a new set of batteries to be purchased at a later date for whichever loco needs them at that time, and avoid waste. The last time we bought a set of batteries (in 2021) they cost £4,500 so the price today is likely to be somewhat higher !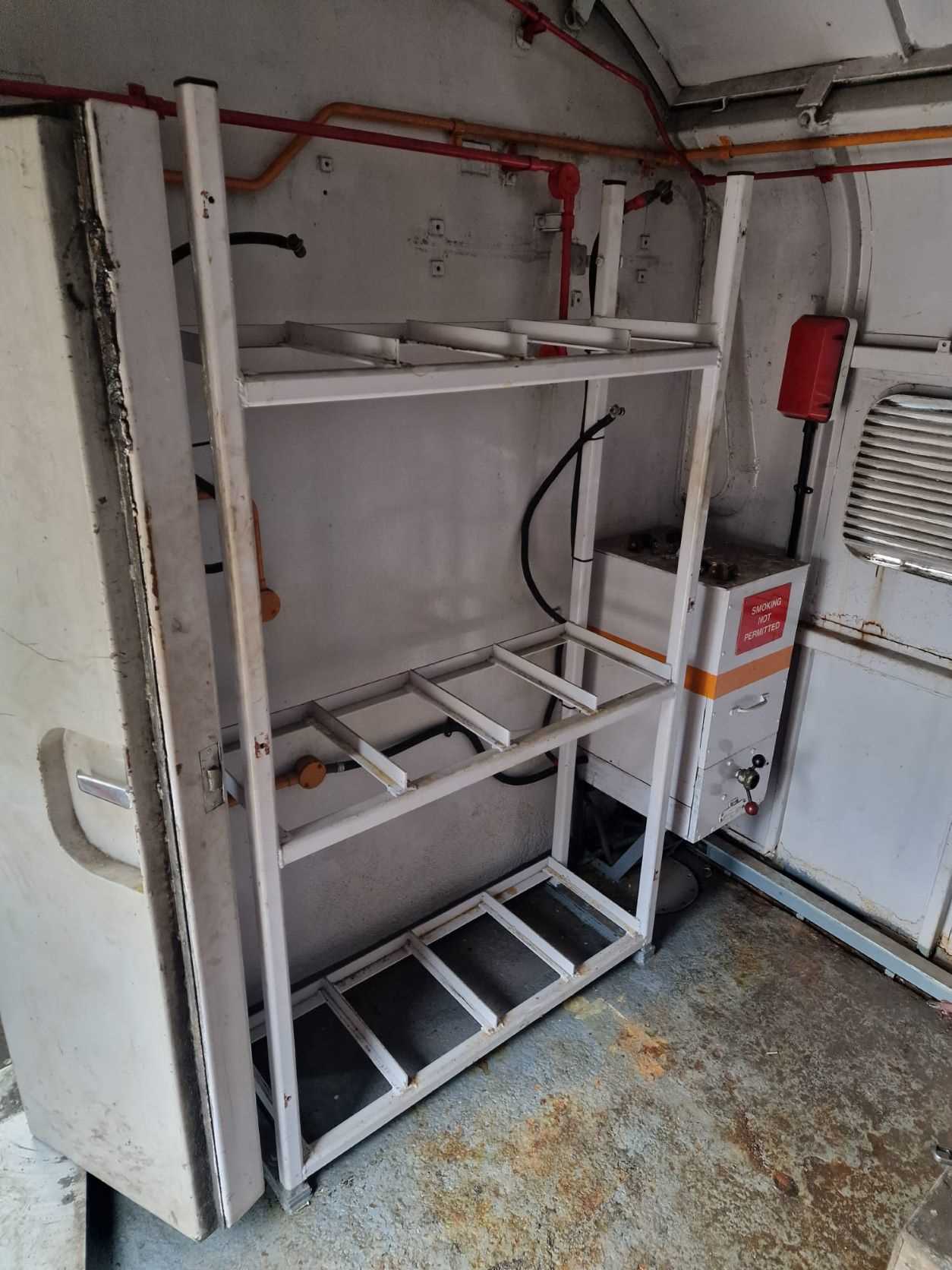 D7017 – the battery rack (now located in the former boiler room) was cleared of the old tired batteries at Williton on Saturday 14th January 2023. Photo by Martin Howard © CC BY-NC 3.0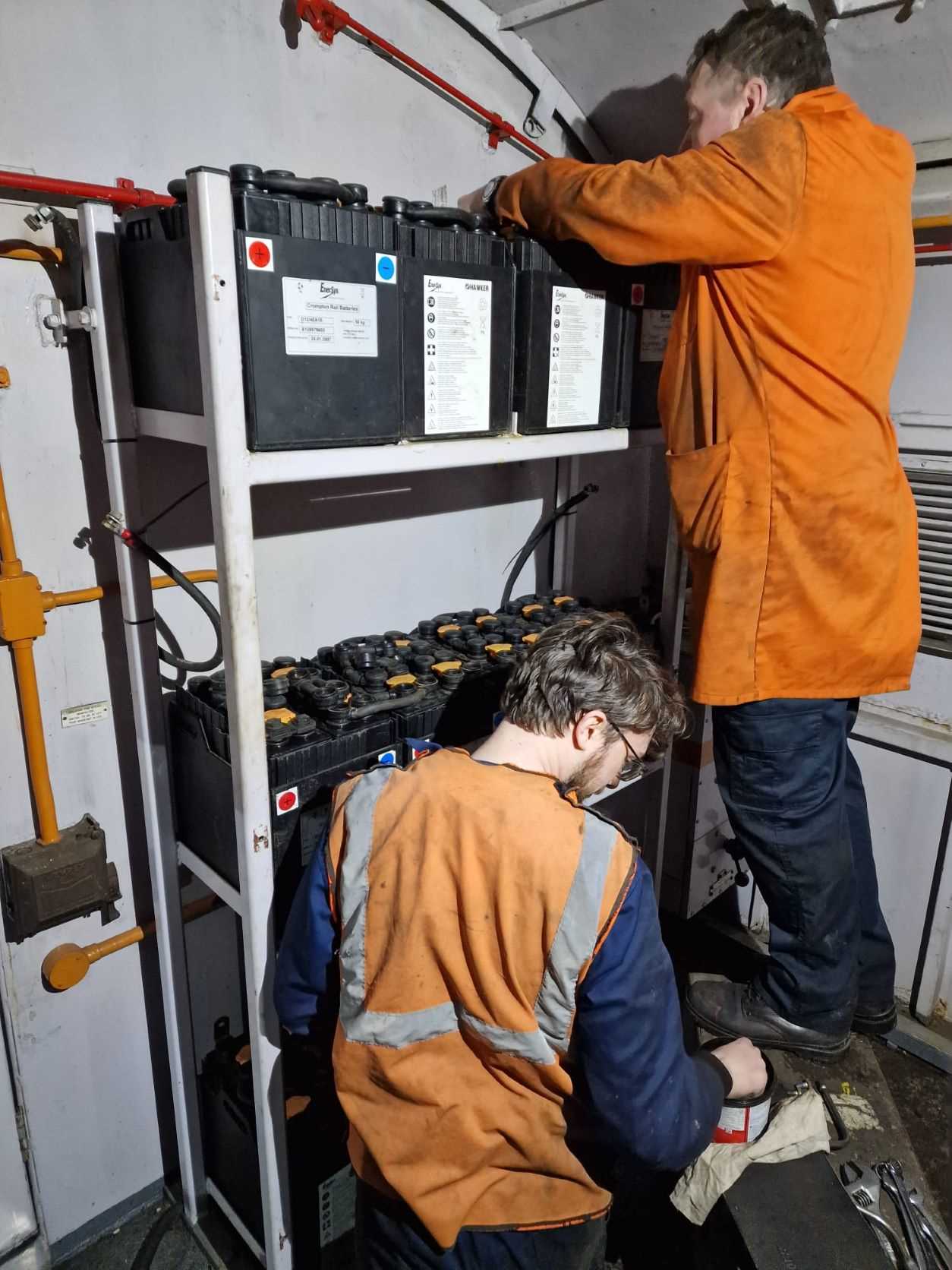 D7017 – the batteries from D1010 were re-organised and re-wired to fit in the rack and will now allow the loco to start reliably and without having to be charged beforehand. Ian R and Karl were pictured at Williton on Saturday 14th January 2023 by Martin Howard © CC BY-NC 3.0
Class 35 'Hymek' D7018 – this loco quietly celebrated her 61st 'birthday' on the 18th of this month, at the end of a long line of locos that have a higher priority in the short term, but the spotlight will swing onto her again as soon as the weather improves. There are a number of tasks outstanding on this loco and all will be tackled in good time for the start of the new season.
Class 14 'Teddy Bear' D9518 – more progress on multiple fronts, with even more work going on in the background. Here's a few photos that give an impression of what is going on: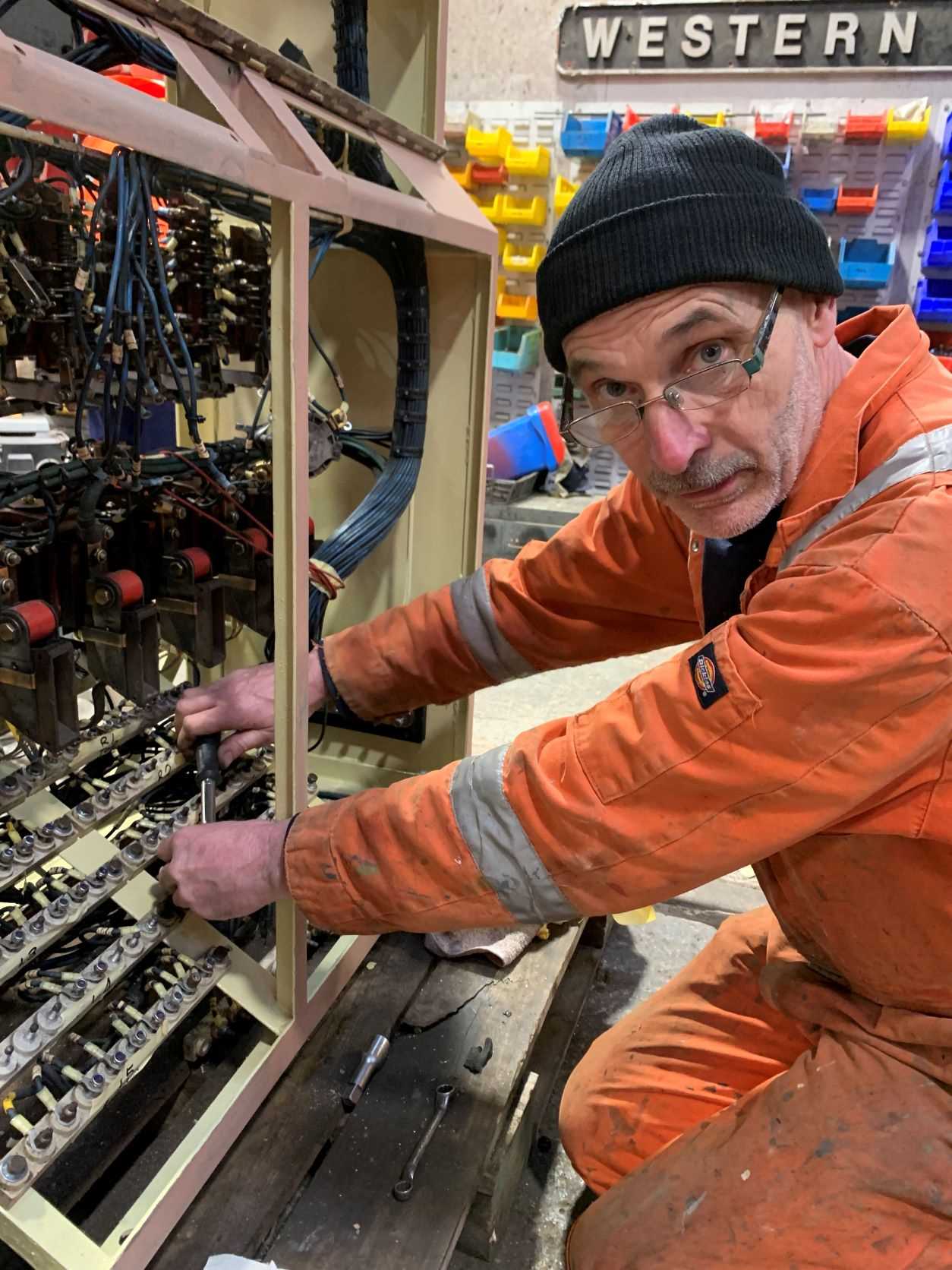 D9518 – the photographer catches Colin G by surprise as he re-fits the electrical terminal strips to the control cubicle frames after appying a coat of paint. Pictured at Williton on 14th January 2023 by Andy Royal © CC BY-NC 3.0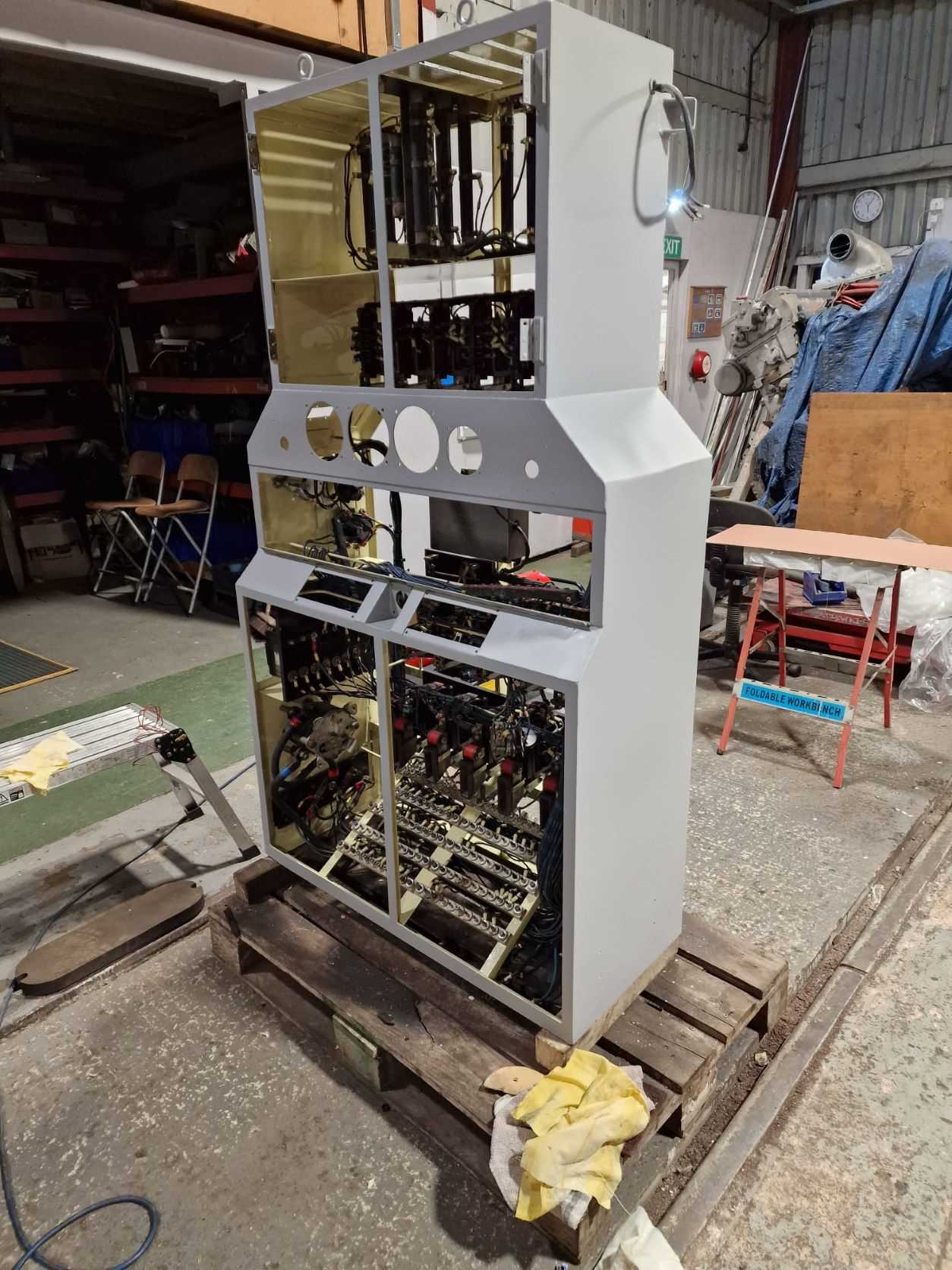 D9518 – and what a difference – the inside surfaces in cream gloss and the outside surfaces in grey undercoat. Pictured at Williton on 14th January 2023 by Martin Howard © CC BY-NC 3.0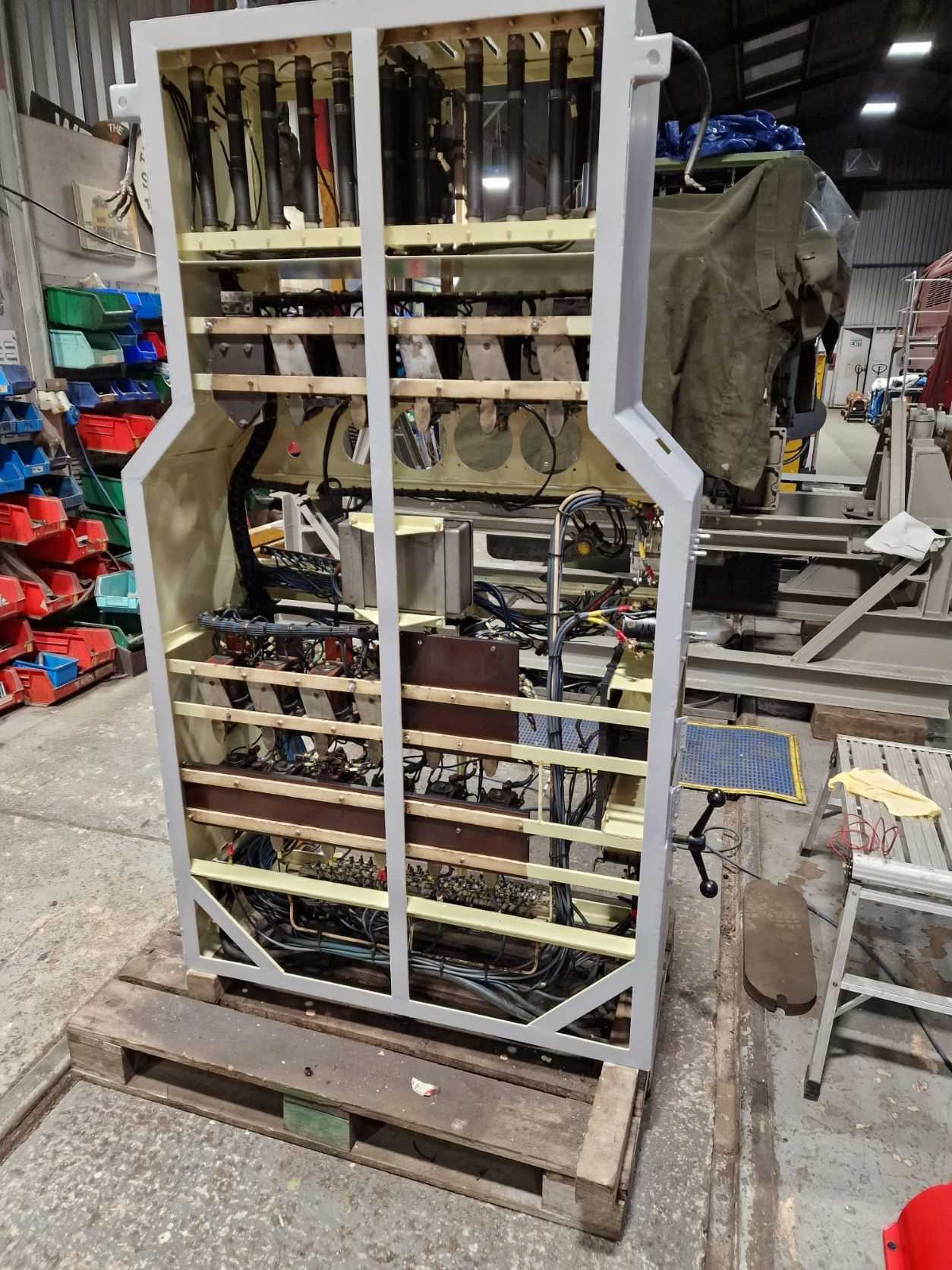 D9518 – and the electrical control cubicle viewed from the rear. Pictured at Williton on 14th January 2023 by Martin Howard © CC BY-NC 3.0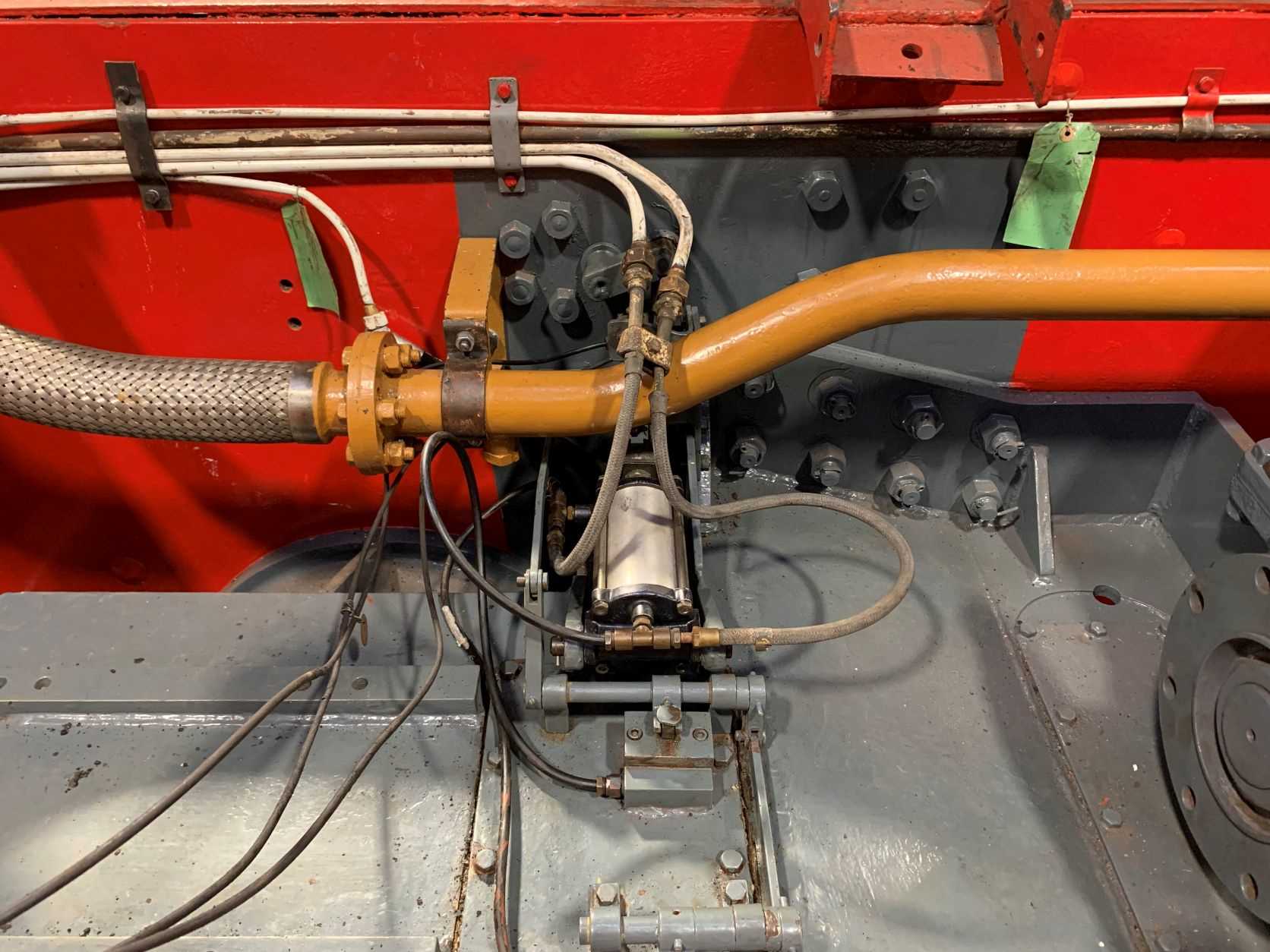 D9518 – the pneumatically-operated reverser mechanism was trial assembled and operated to make sure that everything was in working order before making the final installation with new pipework. Pictured at Williton on 14th January 2023 by Andy Royal © CC BY-NC 3.0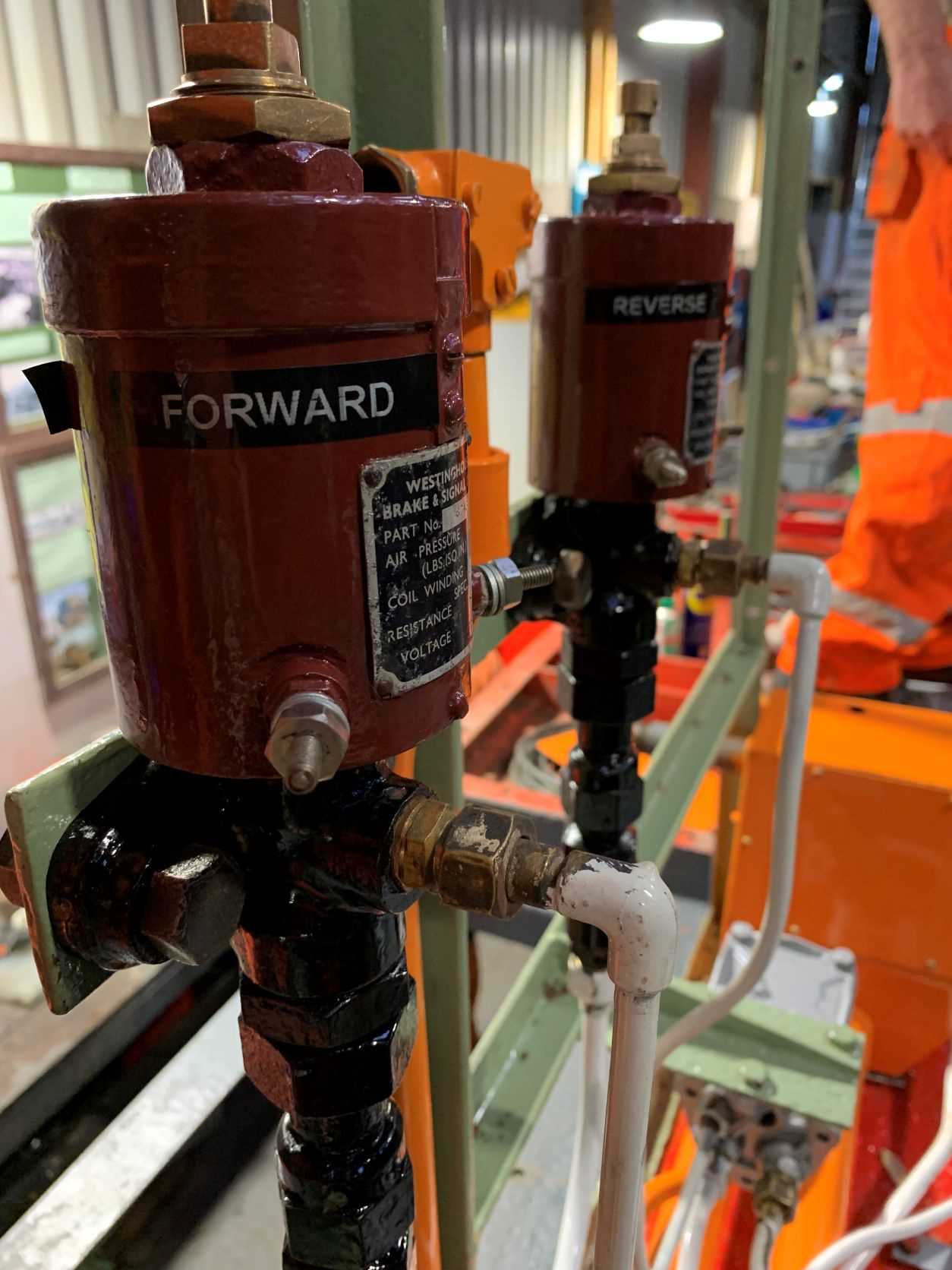 D9518 – the Westinghouse solenoid valves that control the reverser mechanism were operated manually to test for the correct function (the electrical installation will come later). Pictured at Williton on 14th January 2023 by Andy Royal © CC BY-NC 3.0
This loco is the subject of a fundraising appeal so please follow this link to find out more. We need your help ! In addition to funds, we also need plenty of HANDS. If you love the 'Teddy Bears' and you are not already a member of the DEPG, please join us so that you can become one of the team that is going to return D9518 to fully operational condition as 'NCB No. 7'.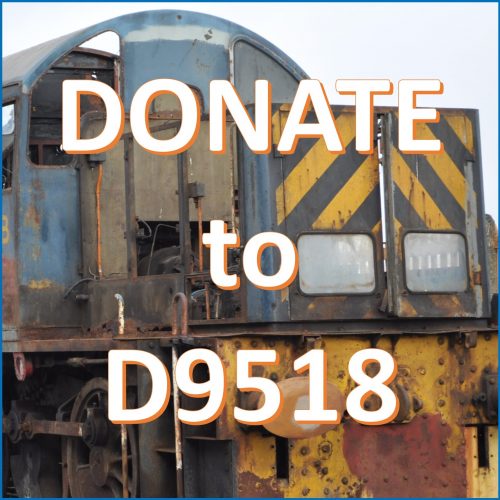 Class 14 'Teddy Bear' D9526 – as already reported, this loco is expected to return to the WSR on Friday of this week via road transport. The loco will remain under cover at Westridge shed, Bishops Lydeard until she is able to make her way to Williton. 
Class 47 47077 'NORTH STAR' – it was one year ago this very week when our 'celebrity' loco made her 300-mile journey from Bishops Lydeard to the NYMR and it was even colder then than it is now, a detail that can be gleaned from the YouTube video that we produced on the day of the move. Click here for a link to the video on our YouTube channel.
Andrew Barclay 0-4-0DH 578 – attention shifted from the fuel system to the lubricating oil system, because the engine oil looked like it was well overdue for a refresh. The loco will get a complete maintenance check and inspection before an engine start is attempted, and hopefully she will be back in running order within the next few weeks. 
If you can help by donating your time to any of these projects, then please JOIN US and come along to the depot for an introduction to what we do and how we do it. We currently have people on site from Saturday through to Tuesday and we can open on other days if we can be sure of getting at least two volunteers on site at all times, so there is plenty of scope. We have tasks of all types to suit most capabilities, both skilled and unskilled.
Many thanks to all of our volunteers who give up so much of their time to work on the cleaning, painting, maintaining, restoring, managing and fund raising for our fleet of heritage locomotives !