D1010: This loco will receive some attention to her batteries today and further work will be done on the valances.
D6566 and D6575: Awaiting underframe and traction motor inspection, expected to be performed at Westridge shed, Bishops Lydeard on Friday 13th November.
D7017: Details are being finalised for the purchase of the complete set of springs for this loco, as part of a major package of springs being ordered by the DTG.
D7018: The transmission has been re-assembled and is now waiting for an opportunity for the engine to be started so that pressure measurements can be made and the control pressures set up, before static testing.
D9518: This week, efforts are being concentrated on the brake frame assembly, with electrical items being prepared for re-fitting to the newly-renovated frame.
D9526: Waiting for inspection and load testing.
47077: The refurbishment of the radiator shutter assemblies has taken a major step forward and two of the four frames are now complete and ready to be re-installed on the loco. The attached photos show one of the completed frames undergoing inspection and final adjustment at Williton last Tuesday. Many thanks to Terry for the photographs.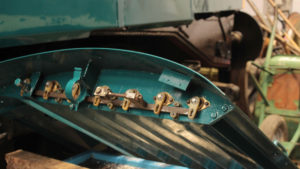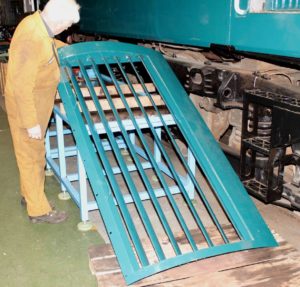 Go to previous Depot News article