BOOK REVIEW – 25-Sep-22 – here follows a detailed report by long-term DEPG member and regular contributor Neale Long, who has purchased this book from our online store and reports as follows: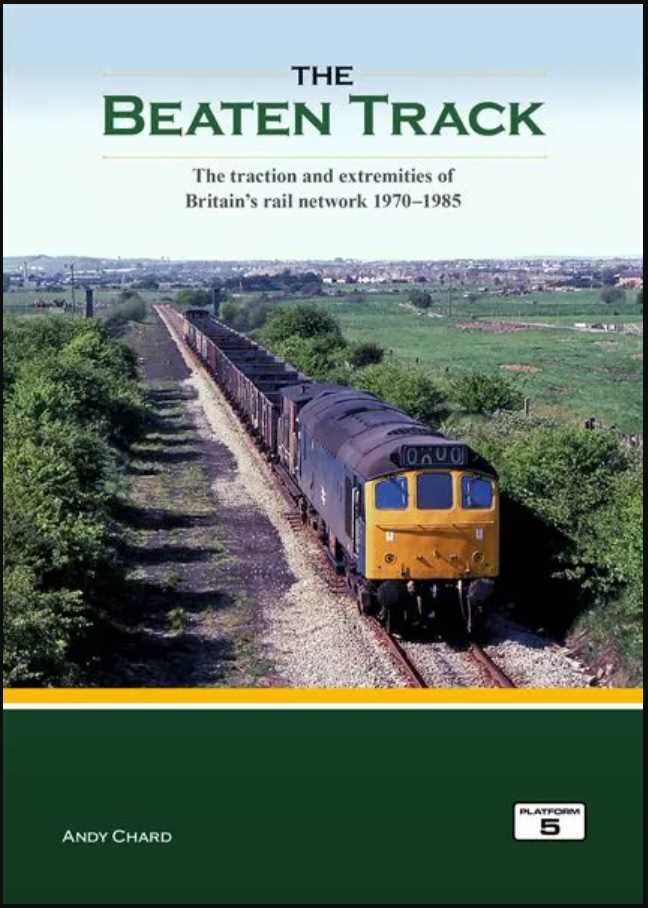 The Beaten Track – The traction and extremities of Britain's rail network 1970-1985 – by Andy Chard, published by Platform 5
"This 176-page hard back book published by Platform 5 illustrates Britain's somewhat tired and rundown network in 1970 up to the period where reform and reorganisation began in 1985. Many railway locations and practices were disappearing as indeed were various types of traction. With those parameters in mind, the volume concentrates on the many and various branches, some well-known, others less so. Throw in some of the disappearing traction types of the era, and a truly comprehensive picture is illustrated in this wonderful evocation of the period.
The author, Andy Chard, by skilfully using the talents of four very well-known photographers, Ian Mortimer, Gordon Edgar, Geoff Plumb and Steve Marshall, has produced one of the finest photographic albums of recent times. What makes this more commendable is that the period in terms of railway publishing has largely been ignored. Thankfully, this splendid tome rectifies this in some style. The use of British Railways (BR) Brake Van passes enabled all four photographers to capture some rare and priceless images, particularly of freight and passenger locations long gone.
The book commences with a full introduction including the way BR operated the brake van pass scheme (there is a lovely story included about this which I won't spoil here) and biographies of all four photographers upon whose work the book is based.  Eight geographical chapters then follow:
Scotland

The North West

The North East

Wales

The Midlands

The East

The South East

The South West

                                         
The book is a real treasure trove of virtually all previously unpublished colour images, all beautifully reproduced and accompanied by detailed and accurate captions with the occasional but very useful map thrown in to assist the reader. Some of the many and varied illustrations do merit a mention in this review: a Class 06 on the Kirkaldy Harbour branch, a Class 25 at Gathurst (Wigan to Southport), Dunston Staithes with 03064, 37180 on the Trecwn branch on a railtour, 47034 on a Paddington train at Gloucester Eastgate, first generation DMUs at New Holland Pier, 08417 at Silvertown Tramway, and 25080 at Wadebridge on the farewell railtour. All chapters fully and comprehensively cover each geographical area. Traction enthusiasts will love the sheer variety as will railway historians, with the many rare views of long-lost railway locations.
For group members, diesel-hydraulics appear including our very own D1010, which is captured at Bristol Temple Meads on the Great Briton Railtour of 24 May 1974 along with a superb image of her leaving Treherbert on the Western Requiem Relief tour of 13 February 1977. A 'Hymek' is depicted on the bitumen tanks at Cranmore and a 'Warship' is depicted at Ilfracombe. Class 14 'Teddy Bear' D9555 is illustrated in NCB service at Burradon. Classes 33 & 47 also feature prominently, but perhaps the most interesting image for some of the group members from the DEG days, there's an image of 74003 at Romsey on the DEG/RPPR organised Class 74 farewell railtour. A couple of heritage railways in their infancy are depicted including the WSR – their Bagnall Tank 'Victor' is illustrated on the opening day, operating the inaugural service.
The author Andy Chard has done an excellent job in compiling this fine book telling the story of an often-ignored period in British Railways history – an era of decline and neglect. The old ways were changing, but thanks to this album they were not forgotten."
"A book one can unreservedly recommend to the reader."
Many thanks to Neale Long for providing us with this book review.
VOLUME 2 IS NOW AVAILABLE.           Click here to read a review of Volume 2.