BOOK REVIEW – 26-Jun-22 – this week, we are re-visiting a detailed report by long-term DEPG member and regular contributor Neale Long, who purchased this book in May 2021 and reported as follows: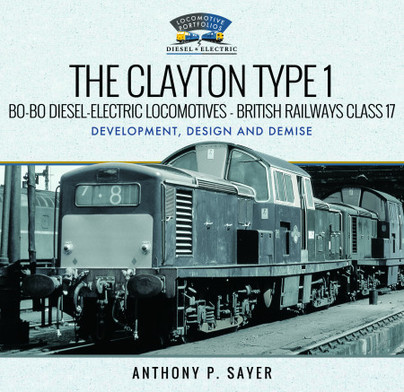 Clayton Type 1 Bo-Bo Diesel-Electric Locomotives – BR Class 17 – Development, Design and Demise – by Anthony P. Sayer – published by Pen & Sword Books on 28-May-21    
"For his third edition focusing on some of the less successful British Railways Diesel Locomotives, author Anthony Sayer turns his attention to the ill-fated Clayton Class 17s.
Conceived as the "standard" British Railways Type 1 locomotive primarily to be used on local freight/trip working, they were to replace earlier Modernisation Plan locomotives whose designs fell short of requirements due to having single cabs with limited vision requiring double-manning. Extensively researched and beautifully written, Anthony tells the fascinating though essentially sad story of these ill-fated locomotives from conception through to design, construction, their lamentably short life actually in service, rundown, demise and disposal. Told in great detail and copiously illustrated, this excellent publication contains 374 pages which are presented as 25 chapters as follows:
   BR First-Generation Type 1s

   The Route to Standardisation

   The Standard Diesel-Electric Type 1 – Order Placement

   The Next 100 Type 1s – D8617-D8716 or back to Plan B ?

   Some Technical Aspects

   Appearance – Design and Styling

   Delivery and Acceptance Testing

   Allocations

   Overhaul and Repairs

   Locomotive Histories

   Performance and Service Problems: Engine and Associated Equipment

   Other Performance and Service Issues

   Accident and Fire Damage

   Operations: High Level Summary

   Detail Differences

   Liveries

   Storage and Withdrawal

   Storage Locations

   Disposal: The Private Yards (1968-1971)

   Disposal: St Rollox Works

   Disposal: The Private Yards Return (1973-1976)

   Post-Withdrawal Use

   Industrial Service

   Preservation

   Concluding Remarks
The level of detail unearthed by the author is very likely to ensure that this is the principal reference book devoted to this sadly overlooked and little-known class of locomotives. This fine study sheds much light on to the very short lives of the class. Readers may already be aware of the principal issue the class suffered, namely the Paxman horizontal diesel engines which became so problematic that two locomotives were fitted with alternative Rolls-Royce designs. What is not so generally known is that the many problems associated with the class could have been avoided had BR listened to the engine manufacturer and fitted cast iron crankcases and cylinder heads, thoroughly tested a prototype and possibly used an alternative to the Napier turbocharger.
Particularly interesting was the problems the state-owned industry had in creating a suitable support structure that could ensure that a coherent spare parts supply and stock management system existed. Money inevitably resulted in conflicting objectives within the BRB CMEE and the more regionally focused Performance and Service committee. However, as history was to prove, the work for which they were designed was generally lost and what hastened their departure from BR was that the Class 20 became viable when operated in pairs to become in effect a type 4, suitable for long distance heavy freight work.
Anthony Sayer's superb tome offers much to diesel historians on a class which prior to this publication has been overlooked. This book redresses this oversight and is highly recommended."
Hardback, 374 pages, 280 photos/diagrams.
Many thanks to Neale for providing us with this book review.
Buy this book from our online store and support the work of the DEPG: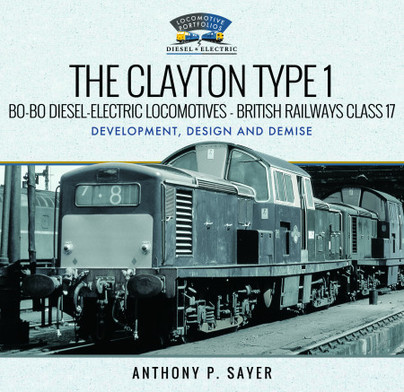 Buy these books from our online store and support the D9518 Restoration Fund